The Conference of the Animals, Queens Museum

Ulrike Müller, The Conference of the Animals: A Mural, Queens Museum, NY. All Photos: Hai Zhang.

The Conference of the Animals was a two-part project that consisted of a mural by artist Ulrike Müller (which remains on view until January 2022) and an exhibition of children's drawings by independent curator Amy Zion (which closed in February 2021). The project included a discussion between Müller, myself, and Lynne Cooke, moderated by Larissa Harris.

My deep thanks to Ulrike Müller and to Sally Tallant, Larissa Harris, Sophia Marisa Lucas, Jil Weinstock, Photios Giovanis, Lynne Cooke, Alhena Katsoff, Petrit Halilaj, Ian Sullivan, Susan Cary, Eng Sengsavang, Nancy Gillette, Naomi Fry and Ohad Meromi, Tavi Meraud, David Ment, and all who contributed to the exhibition.

This project took its title from German writer Erich Kästner's children's book The Animal's Conference (1949) written in the aftermath of World War II. The story is a political satire about a group of animals who, frustrated by the inefficacy of human international conferences, convene to save the planet.

Art by children has played a significant role in modern and contemporary art history. It was used by artists between and after the world wars as inspiration to help make sense of a world gone awry. Like other sources of innovation for modern artists, art by children was rarely attributed properly or dated. Until recently, children were perceived to bring an innocent and even primitive and unbiased perspective to the way that they bear witness to the world. To that end, children's drawing in particular has also played a role in international diplomacy throughout the twentieth century as well as today to lobby for aid.

This exhibition is organized in two sections, in reference to the museum's history as former host to the General Assembly of the United Nations (1946–50) as well as its Panorama of the City of New York. The introductory section focuses on the role of children's drawings in international diplomacy. The rest of the gallery is filled with drawings by children made in New York City, depicting life and recording details from the artists' respective childhoods. Selected for their period-specific details and treatment of scale and perspective, the drawings in this section were made by children from 1900 to today. They range from the childhood output of established artists to named and anonymous works of non-professional artists of various training and ability.

As works in this exhibition demonstrate, from an early age, children develop detailed impressions of their environments, which may be recorded directly from life, or mixed with images and stories they experienced secondhand. The Conference of the Animals (An Exhibition of Children's Drawings) positions children as artists and takes seriously their observations, imagination, and output. The drawings in the exhibition made by children under dire circumstances offer insight into a larger context in which children produce images of conflict as a form of both art therapy and appeals for diplomacy. They also draw attention to how adult authority shapes their perspectives and understanding of situations, and how children's awareness of their own role as witnesses influences how and what they depict.

A significant portion of the works are on loan from the Children's Museum of Art. This exhibition is presented in conjunction with The Conference of the Animals (A Mural) by Ulrike Müller which stretches from the museum's Large Wall into this gallery.


Entrance to: The Conference of the Animals (An Exhibition of Children's Drawings).



Drawings by Petrit Halilaj above a vitrine of historic drawings by children documenting war


Anonymous drawing produced as part of Operation Healing following 9/11. Courtesy of the Children's Museum of the Arts, Operation Healing Collection



Additional drawings from the Children's Museum of the Arts, Operation Healing Collection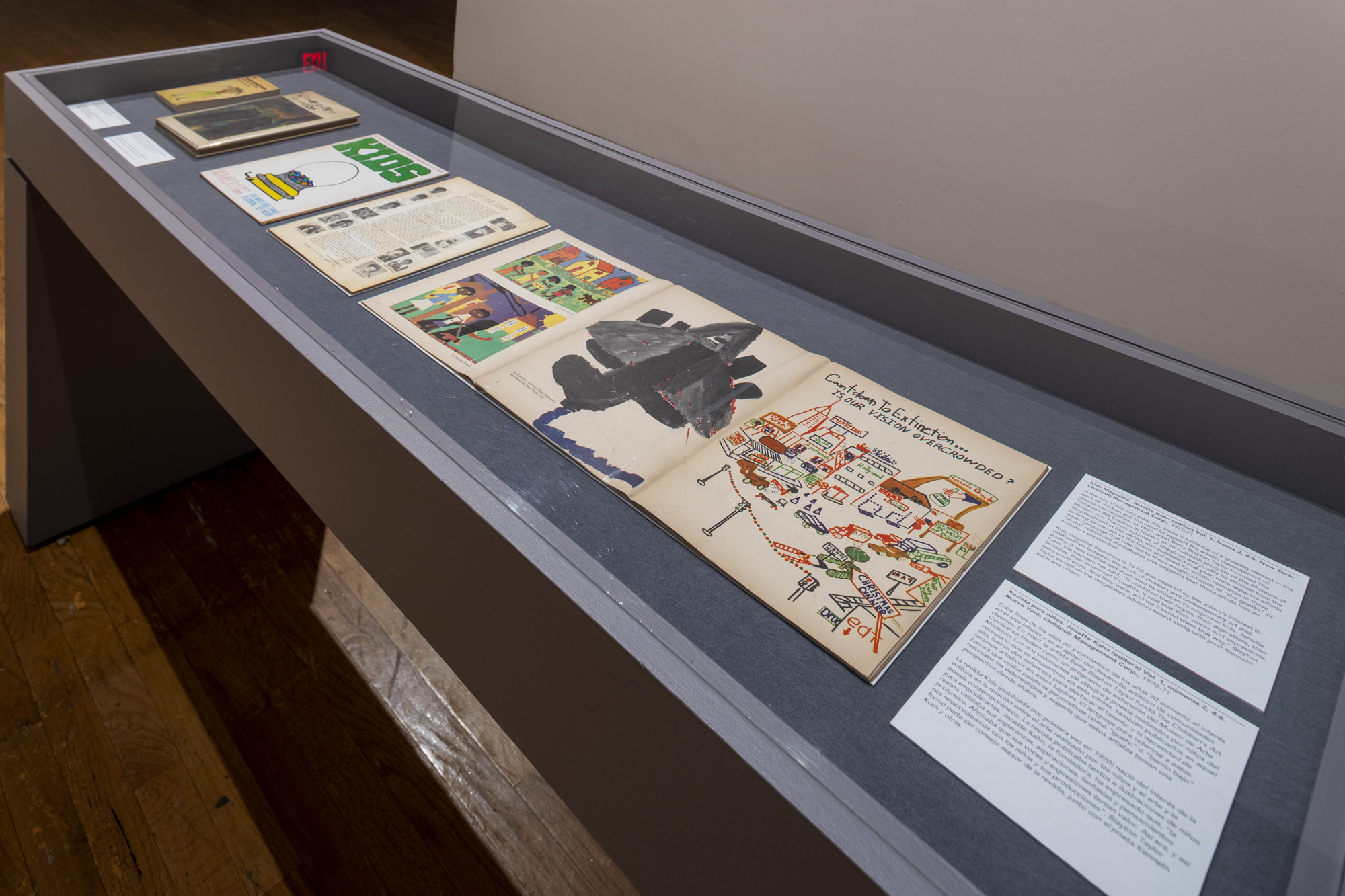 Vitrine featuring Kids Magazine, Vol. 1, Issues 2, 4-6, 1970-71, a publication edited and produced by kids, founded by Jeanette Kahn.


Witty Huang, Swimming Contest (c. 1990). Collection of the Children's Museum of Art, New York.